Cleaning and Disinfection Solutions
HUBSCRUB™ products are about capability, performance and most importantly solutions that address the problems you are looking to solve.
The only cleaning solution that combines chemical and ultra violet light to clean and disinfect medical equipment cost effectively.
The Benefits and Value of HUBSCRUB Systems
Advanced Automation

HUBSCRUB's automation improves productivity, delivers consistent quality and less dependent on scarce resources. What sets us apart is HUBSCRUB takes care of itself by doing maintenance functions automatically such as; self-cleaning chemical residue in tubing and devices, automatic restarts when filter screens are too soiled, automatic change of detergent amounts based on soiled equipment. Touchscreen technology informing the user through all operations. Internet connectivity for remote access.

Infection Prevention

HUBSCRUB is the most comprehensive disinfection system for patient care equipment with the highest levels of protection. Technologies such as; ultra violet (UV), misting, tablets and liquids for the most demanding needs. HUBSCRUB's programmable features keeps your system current for that unexpected pathogen and that new disinfectant.

Mobility

HUBSCRUB was built to move on day 1. Moving HUBSCRUB to where equipment is located is the most cost effective, most productive and greatly increases frequency for cleaning and disinfection.

Multi-Purpose

HUBSCRUB is more than a wheelchair washer. Proven design with a wrap around rotating high pressure spray system that is very effective for all shapes of equipment. In addition, HUBSCRUB's UV technology provides the opportunity to disinfect non-washable equipment.

Service Business

HUBSCRUB pioneered the service business for healthcare facilities with over 20 years of experience. Independent companies daily bring HUBSCRUB to facilities for cleaning and disinfection of their patient care equipment.

Premium Support

HUBSCRUB Connect is an internet connection to communicate with HUBSCRUB systems to monitor performance, diagnose issues, make corrections and updates. It's like having a HUBSCRUB Technician right at your door step.
---
HUBSCRUB™ Model 20/80
Click below for Disinfection Options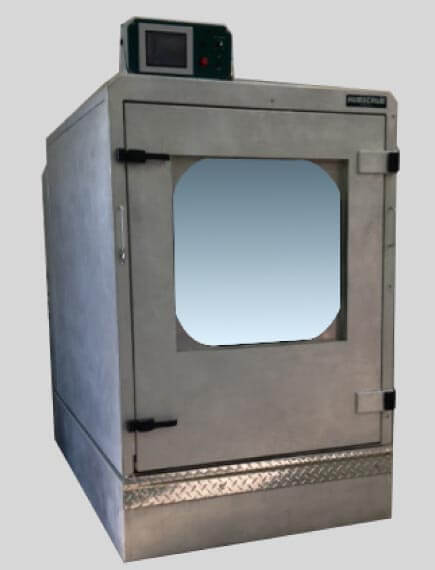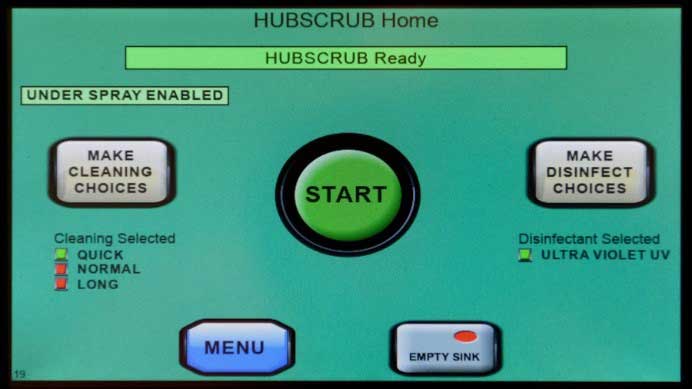 The 20/80 models open up significant benefits and value that are un-matched in the market. All 20/80 models are the same size and all use the same proven cleaning technology. The differences are the levels and types of disinfection that meets the requirements and environments of health care facilities. The 20/80-C and 20/80-R use a liquid disinfectant. The 20/80-UV is the Ultra-Violet model.
Each model features touchscreen, advanced software technology and HUBSCRUB Connect for premium support. All 20/80 V7.7 models will be accessible through an internet connection via a special cloud based product. HUBSCRUB technicians can monitor the system while running, diagnose issues, and update software.
Version 7.7 accepts USB PDF files. Maintenance procedures, product training, and how to make repairs are pre-loaded for convenient viewing.
---
Services
A company can be measured by how well they support their customer. It is support that defines the companies' commitment to the customer.
Life Time Support
As long as the original owner uses HUBSCRUB, the HUBSCRUB Company will provide support at no charge to assist the user in identifying any problem they may be having and ways to correct that problem. We have been doing this for over 15 years.
Warranty
100% warranty on parts and labor for 1 year. Extended warranties are offered.
Contact Us for more information.
Sales Coverage
HUBSCRUB works with a growing number of professional sales organizations that represent manufactures of healthcare products. A number of locations in the US have HUBSCRUB representation.
Evaluation Rentals
Evaluation rentals are provided to fully evaluate the performance and benefits of owning your own HUBSCRUB. Ample time is provided to integrate HUBSCRUB into your daily schedules and validate cleaning and disinfection results for different types of equipment.
---
---