Cleaning and Disinfection Solutions
HUBSCRUB™ products are about capability, performance and most importantly solutions that address the problems you are looking to solve.
The only cleaning solution that combines chemical and ultra violet light to clean and disinfect medical equipment cost effectively.
The Benefits and Value of HUBSCRUB Systems
Staffing: Doing More with Less

Automating repetitive manual tasks are increasing due to labor shortages, reducing operating costs while standards are going up. HUBSCRUB solves that problem.

Infection Control: This is Important

HUBSCRUB systems have been confirmed through independent testing to disinfect equipment that eliminates the most dangerous pathogens. Our model 20/80-UV completely eliminated C-Diff, MRSA and CRE. One C-Diff infection has an average cost of $7,000 to $11,000.

Quick Cycles: HUBSCRUB is very fast and very thorough

HUBSCRUB cleans, rinses and disinfects equipment at a sporicidal level in just 6 minutes saving time, labor costs, minimal disruption with staff and leads to increased frequency which is needed today. And, it only uses 4 gallons of water complete.

Cleaning a Variety of Equipment

HUBSCRUB is more than a wheelchair washer. Proven design with wrap around higher spray pressure makes it effective for all shapes of equipment. More solutions for more value.

Mobile Solutions: Built to Move

Need to move HUBSCRUB to another location? In five minutes, you're on your way. One person, simple set-up.

Business Objective: The Right Tool

Making a job easier, efficient and getting the job done in the shortest time is a business goal that HUBSCRUB will deliver for you.

Cost of Ownership

HUBSCRUB value doesn't stop with solutions and features. Over a five (5) year period, parts cost average $75 per year.
HUBSCRUB™ Model 20/50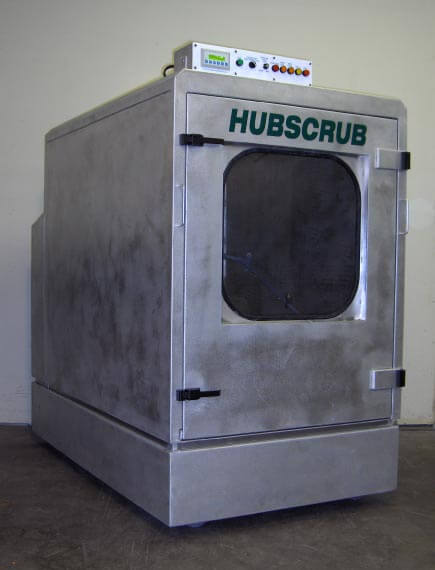 The 20/50 offers great cleaning with our proven cleaning technology. Our disinfection system supports Quaternary disinfectants that eliminates a broad list of low to medium pathogens.
HUBSCRUB™ Model 20/80
Disinfection Options
The 20/80 models open up significant benefits and value that are un-matched in the market. All 20/80 models are the same size and all use the same proven cleaning technology. The differences are the levels and types of disinfection that meets the requirements and environments of health care facilities. The 20/80-C and 20/80-R use a liquid disinfectant. The 20/80-UV is the Ultra-Violet model.
Each model features touchscreen and advanced software technology for ease of use, minimal training, management reporting and a host of features.
Features & Specifications
Options and Accessories
Services
A company can be measured by how well they support their customer. It is support that defines the companies' commitment to the customer.
Life Time Support
As long as the original owner uses HUBSCRUB, the HUBSCRUB Company will provide support at no charge to assist the user in identifying any problem they may be having and ways to correct that problem. We have been doing this for over 15 years.
Warranty
100% warranty on parts and labor for 1 year. Extended warranties are offered.
Contact Us for more information.
Sales Coverage
HUBSCRUB works with a growing number of professional sales organizations that represent manufactures of healthcare products. A number of locations in the US have HUBSCRUB representation.
Evaluation Rentals
Evaluation rentals are provided to fully evaluate the performance and benefits of owning your own HUBSCRUB. Ample time is provided to integrate HUBSCRUB into your daily schedules and validate cleaning and disinfection results for different types of equipment.